White Paper »An Additive Manufacturing Breakthrough«
Exploiting the untapped potential of additive manufacturing: White Paper »An Additive Manufacturing Breakthrough: A How-to Guide for Scaling and Overcoming Key Challenges«
Three Fraunhofer institutes (including Fraunhofer IGCV, Fraunhofer IPT, and Fraunhofer IAPT), together with ETH Zurich and in collaboration with the World Economic Forum, published a white paper that identifies untapped potential in additive manufacturing. Published on Jan. 20, 2022, the document »An Additive Manufacturing Breakthrough: A How-to Guide for Scaling and Overcoming Key Challenges« is intended to address the manufacturing industry and policy leaders from the World Economic Forum network.
Additive manufacturing (AM) has been receiving increased attention for several decades. In the process, the industrialization of additive manufacturing has gone through various waves and has recorded an average annual growth rate of 20 percent. The joint study examines the business of additive manufacturing and highlights the key steps for its breakthrough. Four best practices and three real-world case studies are used to highlight ways to address current additive manufacturing challenges.
The white paper aims to give industry leaders a better understanding of how they can leverage additive manufacturing to realize more resilient, inclusive, flexible, and sustainable production systems that create and deliver value for their business, society, and the environment. In addition, the paper provides a call-to-action on what all stakeholders in industry, policy, and academia would need to do to realize the full potential of additive manufacturing.
Read the white paper »An Additive Manufacturing Breakthrough: A How-to Guide for Scaling and Overcoming Key Challenges« here: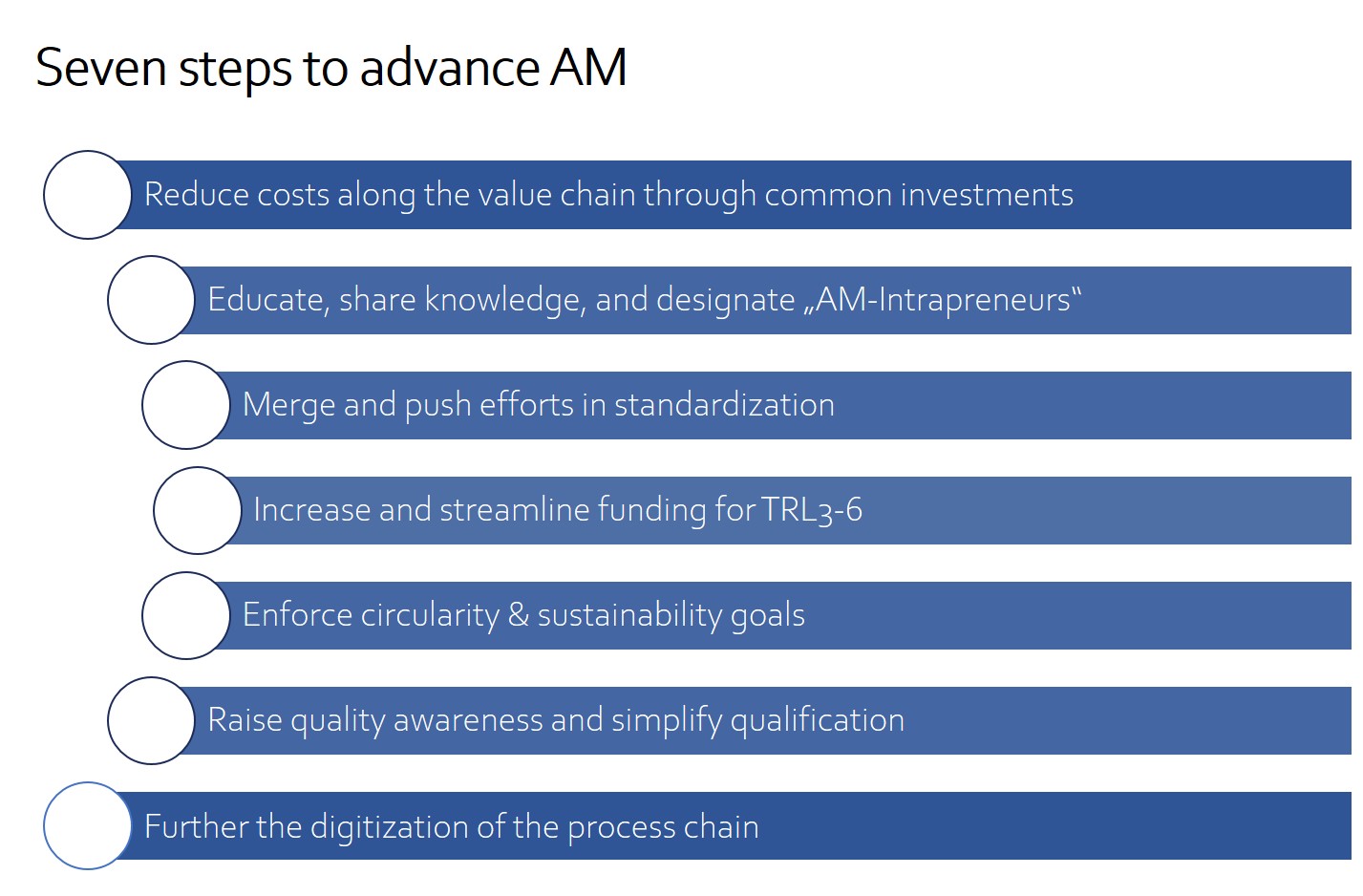 Specifically, there are the following seven steps that will successfully bring additive manufacturing into industrial use in the long term:
Reducing costs along the value chain through joint investment.
Educating, sharing knowledge, and designating "AM intrapreneurs"
Bringing together and advancing standardization effort
Increase and streamline funding for TRL3-6.
Enforce circular economy and sustainability goals
Raise quality awareness and simplify qualification processes
Advancing the digitization of the process chain


You can read the PDF of the white paper "An Additive Manufacturing Breakthrough: A How-to Guide for Scaling and Overcoming Key Challenges" here: White Paper (PDF - Englisch)